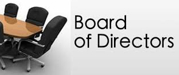 Board of Directors

Updated: 07/07/2021
Volunteer & apply for CRHOA Board of Directors
Read below for more info (updated 07/07/2021)

Board of Directors

Term

President
Emory Gearhart
Feb 1, 2021 to Jan 31, 2023
Vice President
Tim Nelson
Feb 1, 2021 to Jan 31, 2023

Treasurer
- Open
2 or 3 year term

Secretary
- Open
2 or 3 year term

Member
- Open
2 or 3 year term

Please consider volunteering and apply for election to serve on the Board.
See below and if interested or have questions,
please contact the Board at crystalridge@govista.net
Past Board Members

P

resident

Mark Crawford - (Jan 31, 2021)

VP

Fred Herber - (Jan 31, 2021)

Secretary
Newsletter Editor

Peggy Kloes - (Jan 31, 2021)

Treasurer

Emory Gearhart - (Jan 31, 2023)

Member

Tim Evans - (Jan 31, 2021)

Member

Chong Lam - (Jan 31, 2021)

Member

Patti Lundell - (Jan 31, 2021)

(Term Expires)
Volunteer & apply for CRHOA Board of Directors


(posted 03/24/2021)
New members on the Board bring new energy and ideas to our neighborhood. Residents are encouraged to show their interest by contacting the Board.

(1)

Attend Board Meetings

- The 1st step is for you to attend Board meetings to see how the Board conducts business to manage the HOA. This will give you a better feel for the Board function, neighborhood projects, our financial budgets and scheduling. As a resident, you can suggest ideas, ask questions and provide input.
To learn more about the duties and responsibilities of the Board, review our ByLaws and our web site (www.crystalridgehoa.org). If you have questions, send an email to the Board at crystalridge@govista.net or we could possibly schedule a Zoom.com meeting with you.

(2)

Show Interest in Volunteering

- The 2nd step is express your interest in volunteering to be on the Board. No past HOA experience is required as you will learn most by attending meetings and from our web site. Various backgrounds, experience and talents on the Board increases its effectiveness.

(3)

Apply for Election to the Board

- The 3rd step is to apply via the "Board Member Election Candidate Form" (as of 03/24/2021, under review) to be elected to the Board. The next Board elections are in Jan 2022 at the Annual Neighborhood Meeting.

January 2022 is not far away. Now is a good time to get started.



Board Member Election Candidate Form (03/24/2021 - under review for 2022 updating)
In January 2022, new Board members will be elected at our annual neighborhood meeting. Additonal info to be added at a later date.
Board of Directors, CRHOA