PO Box 73144, Puyallup, WA 98373 Email
Updated: 09/05/2021
2018 National Night Out (NNO)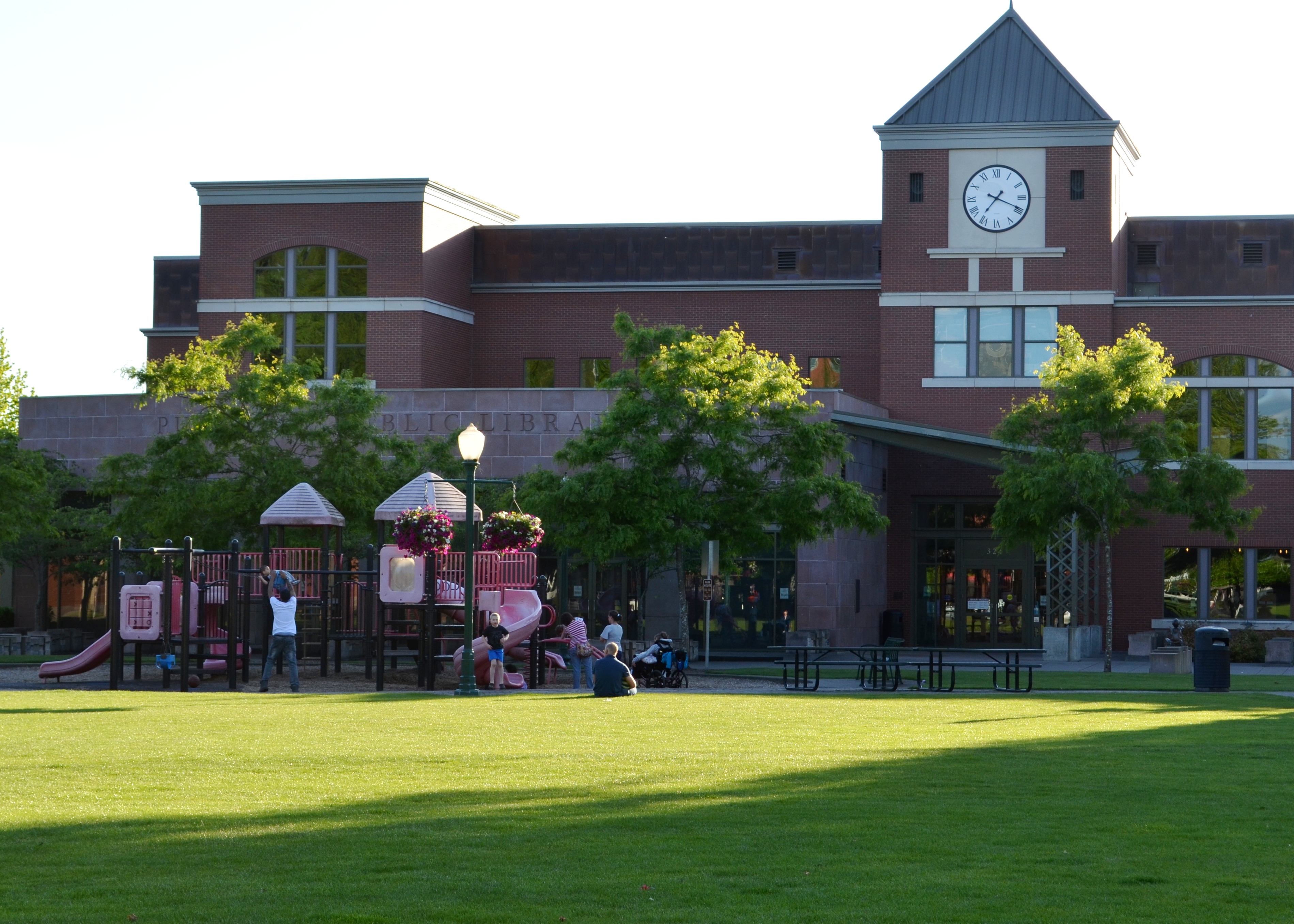 "National Night Out Against Crime" in the USA will be held on Tuesday, August 7, 2018.
In 2017, we had a combined NNO with Crystal Ridge HOA and Puyallup Highlands HOA in our neighborhood and had a brief visit by the PPD and fire department.
In years past, the Puyallup Police Department has had a very vibrant night visiting our Block Watch neighborhoods throughout the City. Last year they visited a new record of 23 organized Block Watch parties spread across the City.
To be able to make it to all the parties, they had to split into three different teams to canvass Puyallup. The time they spent in travel from location to location made for a very tight schedule. They only got to spend on average of 10 minutes at each Block Watch gathering.

We have an amazing, engaged community. As a result, our Block Watch numbers are increasing and we expected to have more Block Watch parties to visit for this year's event. Our officers enjoy the opportunity to connect with those they serve. There was concern that the growing number meant even less time they spent at each party. They have decided to make a pretty big change this year.

So in 2018 the Puyallup Police Department is going to host a National Night Out Against Crime One Puyallup party in Pioneer Park. This will be our National Night Out event for the entire City. They will no longer be visiting individual Block Watch parties, but instead encouraging our Block Watch parties to gather with them and other members of the community in Pioneer Park.

The event will be held from 6 to 8 pm. There will be family friendly music, bounce houses for kids, police demos, a food truck and community booths. The change will allow the PD staff to spend quality time with the community in a very fun environment.

We are very excited for National Night Out this year. I hope you will be able to join us at the event as we celebrate all the great and positive things we as a community and others are doing together to fight crime in Puyallup.
CRHOA NNO Chair
2017 National Night Out (NNO)

======================================================

Crystal Ridge & Puyallup Highlands
4th Annual NNO - Aug 1, 2017
======================================================

Crystal Ridge's fourth annual National Night Out was a joint event with the Puyallup Highlands
and held in the Highland's Park on Victoria Lane.


Kevin Loney, NNO Committee, shows off the home and personal safety-oriented prizes for the FREE raffle.
The Boards both chipped in to buy most of the items, and thank you to Unique Makeup, LuLaRoe clothing and Damsel in Defense for donating even more prizes!


Nora Loney and David Allen helped with setup/takedown and are shown here manning the safety/security flyers.
Just off screen to the left, WSU Extension Master Gardeners had a booth for answering yard care questions (not shown - could not get a good pic with all the ladies). Thank you Master Gardeners! — with Nora Loney.

Block Watch table, with Mark Noll Manning it for Crystal Ridge. Residents signed up for new Block Watches!



And chatted about other neighborhood stuff with board and committee members from both HOAs -- Stacy Olivas of Puyallup Highlands and Mark Noll of Crystal Ridge

The police came and passed out goodies to the kids, talked with the adults and showed off their vehicles.

The police chatting with folks.

Ah, ice cream!


Kids had fun grass sliding on a giant soft frisbee, playing badminton and volleyball.


Nothing like ice cream on a hot day.
Vendors

Damsel in Defense

Unique Makeup

LuLaRoe

LuLaRoe
2016 National Night Out (NNO)
======================================================

CRHOA 3rd Annual NNO
Aug 2, 2016 - 5 to 7 pm
CR, 5th Ave SE

Block watch tables, fire department, police department, sales booths, games, archery, ice cream and more

Location: 15th Ave SE (between Amber Blvd & 39th St SE)

======================================================

Location: 15th Ave SE (between Amber Blvd & 39th St SE)

======================================================



August 5, 2014
6 to 8 pm
CRHOA 1st Annual National Night Out (NNO)

August 5, 2014
6 to 8 pm
CRHOA 1st Annual National Night Out (NNO)

Location: Crystal Ridge
on 15th Ave SE between Amber and 39th St SE

Update 8/06/14:


Agenda - 6 to 8:00 pm - Meet & greet, Neighborhood Watch info,

volunteer signups for Block Watch and

Block Watch Captains,

children's coloring pages, bouncy house,

water and ice cream

7:00 pm - Police car and fire trucks arrive

8:00 pm - Event ends


CR Handout:

Descriptions & Opportunites for Neighborhood Watch, Email DL, Hospitailty Committee, ACC and Board